Sleeper Bus by New Shandar Company | Karachi to Quetta Sleeper Bus By New Shandar Company
New Shandar is a privately owned Luxury Bus Service. Company has been providing the highest quality services for people of Pakistan. They have sleeper buses which are operational from Quetta to Karachi. The main terminal is present in Karachi .
Sleeper Bus by New Shandar (Karachi to Quetta Sleeper Bus):
Sleeper buses are a common means of long-distance transportation. They are slightly more expensive than trains, but also a little faster, and tickets are more readily available. Sleeper Bus by New Shandar Company is a unique style bus, designed in Pakistan. They are well equipped, as the comfort of the passengers is paramount. Also, these buses are seldom filled beyond capacity. Coaches provide commuters a safe, efficient and affordable transport services. There are 2 drivers present at all times traveling and buses have a rest room for drivers.
---
Related: Daewoo Sleeper Bus Lahore to Karachi. Faisal Movers Sleeper Bus
---
Bus Features & Environment: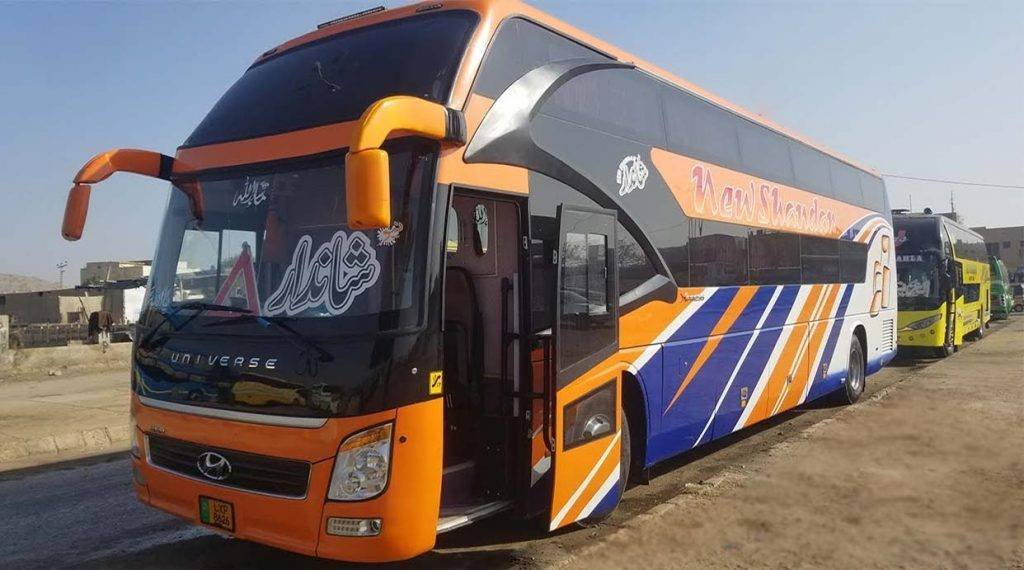 Sleeper bus is a type of specially adapted coach which is designed for the passengers to sleep in. We have discussed some features of the sleeper bus below.
Sleeper bus Seats:
The sleeper bus has two storeys or decks and a total of 32 seats. The lower portion has 2 Sleeper Seats on both the left and right sides and the upper portion has single sleeper seats.
Sleeper Buses have different seating plans, according to storeys, which means they have 1-by-1 single seat on the upper portion and 2-by-2 double seat on the lower portion.
The seat provides enough depth to fully support your body.
Buses have curtains that make them room like a cabin.
Seats are electronically controlled and passengers can adjust the seats and footrests by pressing the buttons.
It has adjustable headrest and
Sleeper buses allow passengers to eat and relax
Karachi to Quetta Sleeper Bus:
There are several companies which are running sleeper buses in Karachi to Quetta route. New Shandaar is one of the bus services which provides sleeper bus for this route.
The cheapest luxury way to get from Karachi to Quetta & Quetta to Karachi is through new shandaar sleeper bus in only 2500Rs for 2-by-2 seats and 3000Rs for 1-by-1 seat. This price includes refreshment.
  Bus Timing:
Quetta to Karachi: 8:30 PM
Karachi to Quetta:  9:00 PM
 Travel timing:
Providing reliable and accurate bus travel and arrival times would be an effective way to improve the service of bus transit systems. The approximate timing is 8 hours.
Security:
CCTV cameras are available on all buses. For this purpose, a separate Security Department works with highly professional staff to make your journey pleasurable, secure and easy.
FAQ: Frequently Asked Questions:
What is the route of New Shandar Sleeper Bus?
New Shandar sleeper bus operates on Quetta to Karachi route.
How much time sleeper bus take from Karachi to Quetta?
Sleeper bus takes almost 10 hours of travel from Karachi to Quetta.
How much sleeper bus charge from Karachi to Quetta?
Sleeper buses from Karachi to Quetta moslty charge ticket price for 2500 to 3000 depending on seats.
Does Sleeper Bus have beds in it?
There are not beds on the sleeper bus, but the seats are designed to lay down in them. you can adjust them to sit or sleep as you need.
Does Sleeper buses have toilet washroom in it?
No, there is no sleeper bus with toilet in it.