About Faisal Movers:
Faisal Movers is one of the biggest transportation services in Pakistan which is known due to multiple service types, affordable fares and 24 hours bus operations. The wide network makes it among the leading transportation service in Pakistan. Faisal Movers is providing its services since 2004, when the service was inaugurated with a single bus and from single route between Sargodha and Multan but within short span of time it became one of the biggest transport providers in the country with one of the most modern fleet.
Now per month more than 500,000 passengers prefer to travel with FM Express which reflects its excellence in services.
A feature which differentiates between Faisal Movers and other transportation services is the multiple services such as Standards, Executive and Business Services. The ticket prices & rates are different for these basic and luxurious services.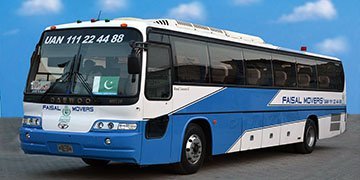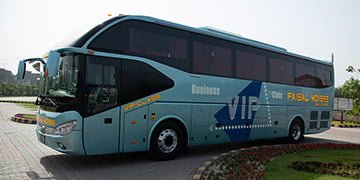 Faisal Movers Top Operating Routes
Online Ticketing System
Faisal Movers relies a third party website www.bookkaru.com for its online ticketing which provides limited cities for ticketing. Bookkaru has andriod and IOS apps available on thier stores.
To assist the passengers Faisal Movers has launched online booking through 'bookkaru'. Just visit the website www.bookkaru.com and select the date, departure and destination to know available options from Faisal Movers. Now choose the service, select the seats and proceed for payments through available options (Easypaisa & Credit, Debit Cards).
Currently online booking is available only for Lahore , Islamabad, Murree, Peshawar, Sargodha, Dera Ghazi Khan, Multan, Uch Sharif, Alipur and Bahawalpur.
Subsidiaries of Faisal Movers
Terminals & Contact Information