About New Khan:
Company started its operations in 1956 (Non-A.C Buses) with the vision of providing safe, comfortable and economical means of travel to the people of Pakistan. With this aim in view, They introduced night traveling for the first time in Pakistan in 1960, giving the people a choice of more traveling hours. Company is one of top line passenger Transport Company in the country.
New Khan is the pioneer in providing air conditioned transport facilities to the general public and started new AC bus service in 1983 in the name of New Khan Road Runners. So that, wherever you might want to travel, Bus service is there to take you to your destination in absolute comfort and safety.
New Khan Top Operating Routes
New Khan Bus Categories & Services
New Khan has many bus types for every class of passengers having different fares, they are expanding services regularly.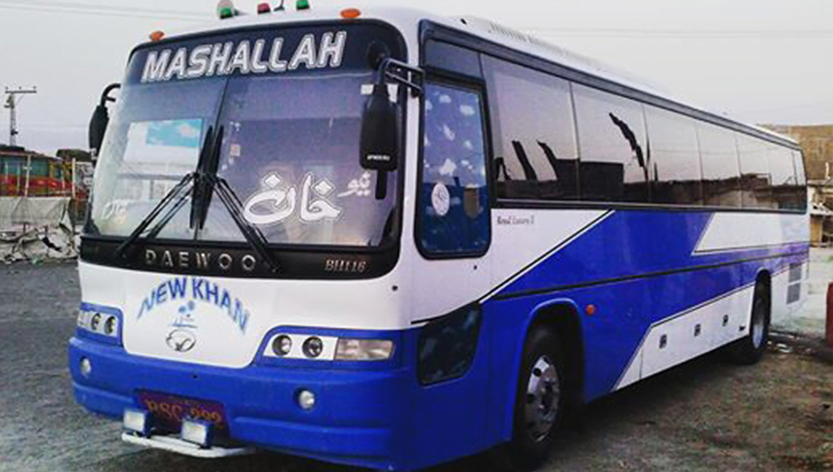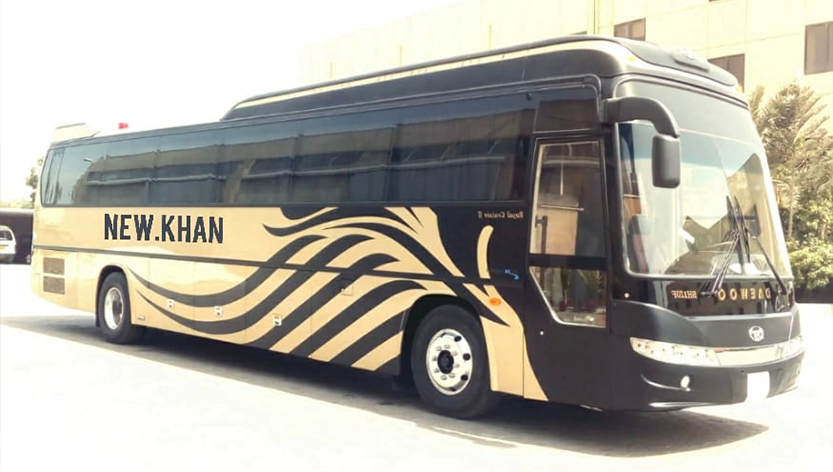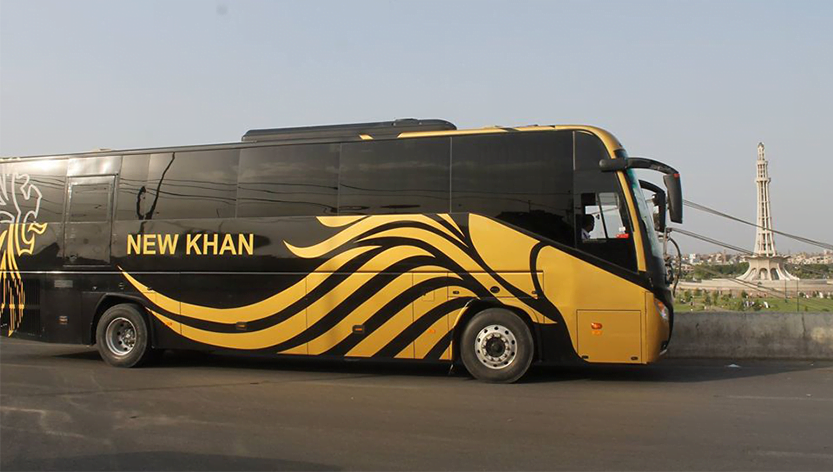 New Khan Ticket Price List
New Khan has multiple bus types and services; ticket prices are according to these luxury and economical categories. The company has different bus service types. Ticket fares starts from PKR 1800 for the Lahore-Bhakkar route, the highest ticket price of PKR 1600for Lahore-Mianwali.
Here are some popular routes ticket price list, to check updated fares we advise you to visit New Khan Updates Ticket Price list.
| | | |
| --- | --- | --- |
| Route | Ticket Price | |
| Lahore-Mianwali | 1600 | |
| Lahore-Bhakkar | 1800 | |
| Lahore-Chashma | 1720 | |
| Lahore-Dera Ismail Khan | 2250 | |
| Lahore-EsaKhel | 1630 | |
New Khan Bus Timings
New Khan has multiple bus options available on all routes with flexible bus timings. The distance and bus timings of some of the New Khan bus routes are mentioned here.
Lahore to Mianwali: Lahore to Mianwali by bus can be covered in 05 hours 30 Mins almost, early bus from Lahore leaves at 7:00AM and last bus departs at 11:00PM
Lahore to Chashma journey takes 05 hr 45 minutes, early bus leaves at 05:00AM and last bus departs at 02:00AM.
Lahore to Bhakkar is a long journey taking 06 hrs.
Lahore to Esakhel bus journey takes approximately 05 hrs 30 Mins
Lahore to Dera Ismail Khan bus journey takes approximately 07 hrs
To check Bus timings of Daewoo Bus Service please visit New Khan Bus Timings.
| | | | |
| --- | --- | --- | --- |
| Routes | First Departure | Last Departure | Travel Duration |
| Lahore to Mianwali | 7:00 AM | 11:00 PM | 5 Hours 30 Minutes |
| Lahore to Bhakkar | 7:00 AM | 12:00 AM | 06 Hours |
| Lahore to Chashma | 10:00AM | 11:00 PM | 5 Hours 45 Minutes |
| Lahore to EsaKhel | 10:00 AM | 12:00 AM | 05 Hours 30 Minutes |
| Lahore to Dera Ismail Khan | 5:00 AM | 02:00AM | 07 hours |
New Khan Online Ticketing System
New Khan is offering online ticketing, however its online ticketing system is provided by Bookme.pk.

Bookme and Bus Company offers online ticketing only for Rawalpindi and Dera Ismail Khan. It often gives discounts for its clients who buys tickets through their online portal.
1) Visit Bookme.pk
2) Select departure and arrival destination
3) Choose the date of travelling
4) Select New Khan as Bus Service
5) Select desired seats
6) Provide your name, email and phone number
7) Make payment
8) You will receive a confirmation message/email
JazzCash, Easypaisa and Credit Debit cards are accepted as payment methods.
Terminals & Contact Information