ABOUT DAEWOO EXPRESS:
Daewoo Express is the first and the biggest foreign investment Company with an advanced and organized transport system in Pakistan. Company offers luxury bus service since its interception in late 90,s.
It is the only transport company to have a nationwide network with various international trade links. Being a transport service provider the company owns a large fleet of buses, having many facilities like refreshment, Latest entertainment system and Technically Advanced Workshops to maintain the fleet for the safety of the passengers, State of the Art Terminals, Training Institutes for Drivers and Mechanical Staff. Daewoo Express has been rendering transport facilities since its inception in 1997 to the people of Pakistan. Daewoo Express Bus Service More than 350 buses and operates nation wide from 58 terminals and sub terminals in Sindh, Punjab, and KPK provinces, touching more than 60 cities and plying on all major highways and motorways of Pakistan. Annually, over 6.6 million people travel on our buses.
Daewoo Express offers multiple bus types in a single route. In these categories; Daewoo Express provide refreshments (optional) and other facilities like Free wifi, Latest entertainment system with charging ports etc.
Recently they also launched their Premium Service which is considered one of the most luxurious passenger services. They have different buses in their fleet such as Daewoo, Yutong Master, Volvo, Golden Dragon,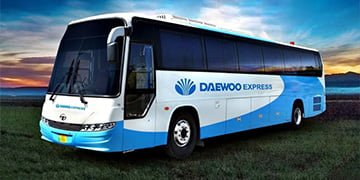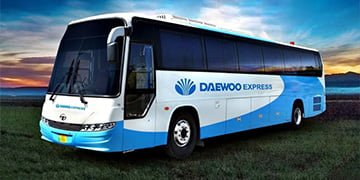 Daewoo Express Top Operating Routes
Daewoo Online Ticket Booking
Daewoo express has its own online ticketing system and mobile apps available on the stores. Further they have collaborated with other third party ticketing platforms such as bookme.pk, easytickets etc; which gives an edge in online ticketing side from all other operators.
Daewoo Express is trend setter in transportation industry of PAKISTAN. Company started operating in late 90,s when there was no concept of luxury bus service in Pakistan.
They also launched their online ticketing when the evolution of technology was being implemented in the country by 3G, 4G mobile networks. Online ticketing is available for all of route where daewoo express operates. They accept Jazzcash, Easypaisa and Credit, Debit cards as payment methods.
Company has launched Android and IOS apps also which can be download from their respective stores for free.