About New Shandar Bus Company:
New Shandar Coach is a role model and trend-setter private transport company in Pakistan with largest infrastructural setup and buses. They have sleeper buses which are operational from Quetta to Karachi and now they have introduced a unique designed bus assembled in Pakistan.
Road Bullet Bus by New Shandar: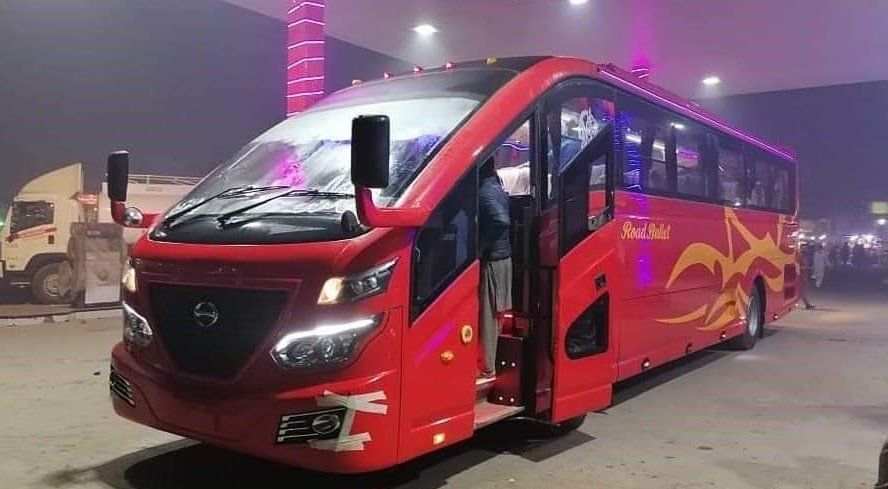 Road Bullet Bus by New Shandar Company is a new bus, designed in Pakistan. It is made by making changes in Kazay bus, the design is unique and looks like bullet so it's called "Road Bullet". Road bullet bus is a luxury bus with cheap fare. It is designed especially for the pandemic situation of covid-19. This bus can also be called as semi sleeper bus because it provides comfort zone to the passenger. Road bullet by New Shandaar Coaches provides commuters a safe, efficient and affordable transport services.
Bus Features & Environment:
Road Bullet is first of its kind as it has something different to offer in compare to other bus services. We have discussed some features of Road Bullet below.
Road Bullet Seats:
You have probably seen buses which have seating arrangement like 2 by 2 or 2 by 1 on some business class buses. But the Road Bullet has something unique to offer.
Buses have a 1 by 1 by 1 seating plan, which means they have one seat on one side and a single seat on the other and one center seat.
It has sofa seats, which are very comfortable.
There is enough space between the two seats so that you can spread your legs well.
Seats are electronically controlled and passengers can adjust the seats and footrests by pressing the buttons.
Arm Rests are Fixed. They can't be controlled electronically.
The Head Pillow is very soft and comfortable.
Seats are designed to provide complete privacy to passengers, as the seating arrangement is 1 by 1 by 1, which means they have three rows. Each row contains one seat and the most interesting thing, there are no seat numbers on the seats, and they have a complete ABC for the seating plan. You will get a seat in Alphabetic order. For example, you will get Seat "F" which is on Right side window, and Seat "E" in the middle and "D" on the left side.
Road Bullet Ticket Price:
The cheapest way to get from Karachi to Quetta & Quetta to Karachi is through new shandaar road bullet bus in only 2000Rs.
Road Bullet Bus by New Shandar Company Route:
Road Bullet Bus by New Shandar Company provides route from Quetta to Karachi and from Karachi to Quetta.
Bus Timing:
Morning:
Quetta to Karachi: 11am
Karachi to Quetta: 10am
Evening:
Quetta to Karachi 9pm
Karachi to Quetta 9pm
Travel timing:
Accurate and real-time travel time information for buses can help passengers better plan their trips and minimize waiting times. Providing reliable and accurate bus travel and arrival times would be an effective way to improve the service of bus transit systems. The approximate timing is 10 hours.
Security:
New shandaar bus ensures its passengers a safe & secure journey. CCTV cameras are present on all buses. For this purpose, a separate Security Department works with highly professional staff to make your journey pleasurable, secure and easy.
Final Words:
Road Bullet by New Shandar Coaches is a unique and excellent addition to Pakistan's transport industry. The bus is assembled locally in a workshop in Lahore. It is a modified bus and contains the body of Kazay Bus by HINO. Keeping in mind the recent pandemic of COVID-19, the seating plan of the bus is like a social distancing. You are not sitting with anyone and sitting alone, which is good in social distancing and also good in privacy manners. As if you are traveling alone, specially if you are women, then it is an ideal seat plan for you.
We hope you enjoyed our article. Please let us know in the comments about your views on the bus.