About SastaTicket.pk:
SastaTicket.pk is an online private platform that was founded in 2013 and it allows users to book bus tickets, Airline tickets, and Hotels online. SastaTicket headquarters is located in Karachi, Sindh Pakistan. SastaTicket provides online tickets for buses, Hotels, and Flights.
SastaTicket.pk has introduced online buying of bus tickets, booking flights and luxury rooms for stay in the hotel in metropolitan (Lahore, Karachi & Islamabad) cities of Pakistan. It is a user-friendly application where people can browse and reserve their tickets, search bus/airline schedules, and reserve seats through SastaTicket.pk.
Bus Operators on SastaTicket.pk:
SastaTicket is dealing with bus operators. Some of them are listed below.
Skyways
Sher Muhammad Yutong
Makka Coach Waqas Waraich
Geo Farhan
and many others.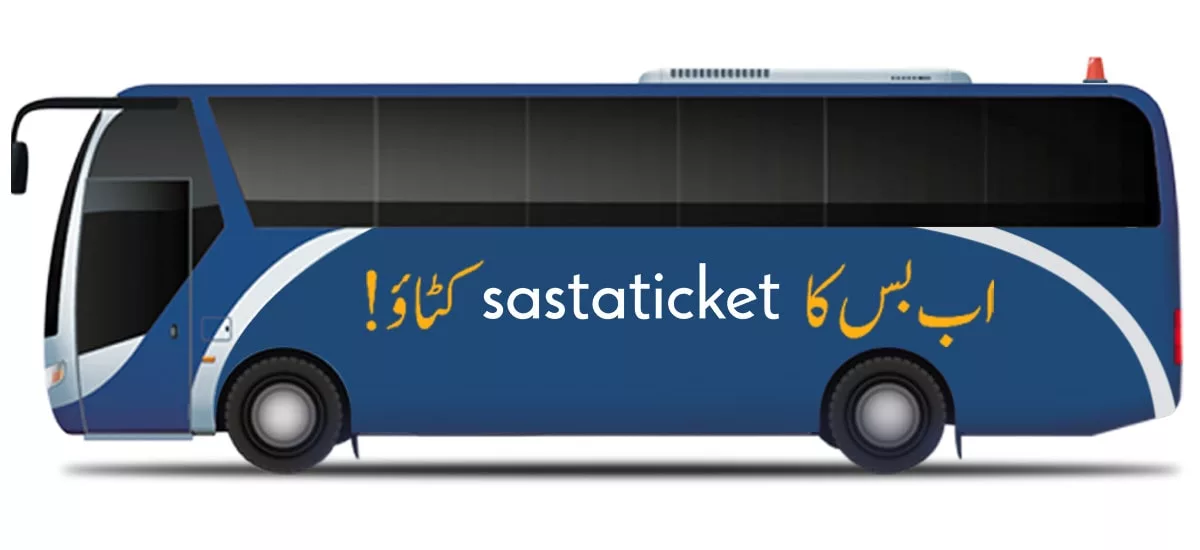 Book Bus Tickets Online
Bus ka
sastaticket

ab kuch clicks dour!
These bus operators have good super luxury buses in which passengers can travel comfortably.
How to Book Bus Tickets on SastaTicket.pk?
Visit SastaTicket.pk or download SastaTicket applications from the Play Store or App Store to your mobile or tablet.
Open the bus module and select the bus operator to which you want to travel.
Select the departure city, arrival city, and departure date; you can select a specific bus company or search without selecting. By selecting a bus company, you will see the timings of that particular bus operator and without selecting you will see all available bus companies and timings operating between the two selected cities.
Press the Search Button after adding the initial details of your travel.
It will fetch all timings; you can filter the timing according to your requirement.
Select the time and it will show the seating plan with real-time available and booked seats.
Select your desired seat and proceed to enter booking details (Male/Female) seat, give mandatory information like Name, Phone, Email, CNIC, and OTP Conformation Massage which is being sent to your number
After that select the desired payment method for paying the ticket charges and click the checkout button to confirm the seat.
Promos & Discounts on SastaTicket.pk:
Various discounts are available for multiple bus operators, SastaTicket.pk also provides promos for various occasions and for various bus companies.
Payment Methods on SastaTicket.pk:
When the customer book tickets online from the website or apps on SastaTicket.pk and want to pay online to confirm the booking. Customers can pay via various payment gateways which are listed below.
EasyPaisa Shop/ EasyPaisa Mobile Account
Jazzcash Shop/ JazzCash Mobile Wallet
Credit or Debit Card (Union Pay/Visa/Master card)
Flights Reservation:
People can now book their flight tickets through SastaTicket and also watch the booking details of the Flights with real-time Flights schedule plans. SastaTicket charges no fees or commission on airline tickets to offer the best possible fares.
Booking Hotels:
SastaTicket a leading Pakistani travel platform, has partnered with over 1800 hotels all over Pakistan, including the northern areas. The sastaTicket application and website show pictures of the rooms and list the different facilities available at the hotels; this makes it easy for the customer to choose the right place to live.
SastaTicket.pk Contact Details: