Number 1 Bus Company of 2020 in Pakistan
The year 2020:
The year 2020 was a crucial year for the economy and for businesses. The outbreak of coronavirus disease (COVID-19) severely affected the global and Pakistani economy in the year. Since the onset of the COVID-19 pandemic, cities across the world have had to enforce massive restrictions on public transport in order to limit transmission of the virus and ensure the safe passage of key workers during emergency response. The results indicate that most of the participating transport companies have been severely affected and had faced several operational & financial issues.
Please note that, this article is based on our research and feedback from users on our social media channels. We are not affiliated with the bus company, and your experience and findings may differ from ours.
Number 1 Bus Company of 2020 in Pakistan
There are many bus companies that are in the race for the number 1 bus company in 2020. Most of the bus companies started their services in the year like STC Transit, ITC Cruzer, etc. Many other bus companies faced a downfall in their services, but one company sustains its position and gained more popularity with their services in the year 2020.
Faisal Movers is a leading Transport Company in Pakistan, having a nationwide network with a fleet of Luxury Buses having multiple service types, with its Headquarters in Lahore operating its service in all major cities of Pakistan.
It holds the tag of the number 1 Bus company in Pakistan in 2020. It is operated over long distances between cities. Now per month, more than 500,000 passengers prefer to travel with Faisal Movers, which reflects its excellence in services. A feature that differentiates Faisal Movers and other transportation services is the multiple services such as Standard, Executive, and Business Services.
Faisal Movers has multiple bus types and fares are according to these luxury and economical categories. You can find Faisal Movers Fares according to these bus types including Standard, Executive, Executive Plus, and Business.
Services & Facilities :
Faisal Movers provide refreshments (optional) and other facilities like free Wi-Fi, the Latest entertainment system with charging ports, etc.
BOOKING OVER THE PHONE: Reservation over the phone. You can reserve your seat by calling us on our number.
SURVEILLANCE SYSTEMS: They have installed CCTV surveillance systems on their buses that would give us the ability to record and store any inconvenience if it happened.
PUNCTUALITY: Time is the most precious asset at this age and at FM, the safety of this asset is guaranteed.
ENTERTAINMENT: Faisal Movers is committed to making your journey full of comfort & excitement. Traveling starts with a recitation of Journey Prayer, followed by Audio Visual Entertainment including:
Islamic Videos (Naats/Byan/Recitation)
Audio Songs.
Family Movies
Dramas, Songs
Documentaries.
Faisal Movers Launched new Buses in 2020:
In 2020, Faisal Movers introduced new buses into their fleet, which are mostly Yutong buses. Yutong is a famous bus manufacturer. More than 80% of buses operational in Pakistan are Yutong buses. Faisal Movers has added Double  Glass buses of Yutong in Black Color and Sky Blue Colors. These buses are considered the best buses in Pakistan for their luxury and beautiful look.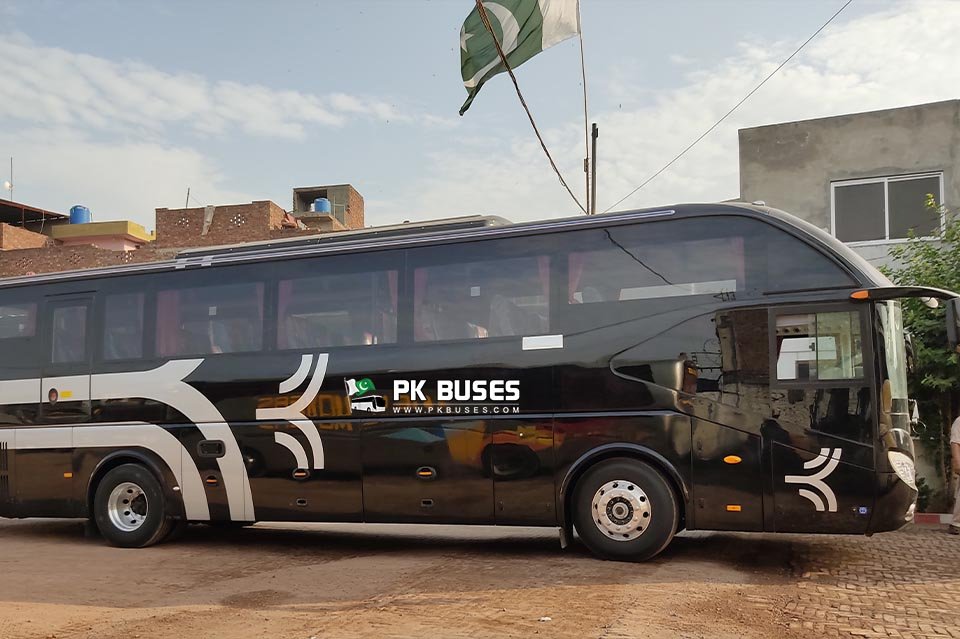 The company also joined hands with another bus company, STC Transit, where new ZhongTong buses have been added on two main routes of Faisal Movers, i.e. Multan ~ Karachi, Islamabad ~ Karachi.
Faisal Movers New Routes & Cities added in 2020:
Faisal Movers launched new routes in the Year 2020 and also added some small cities and towns to their service.
New Routes:
Lahore to Sialkot
Lahore to Swat
Islamabad to Swat
Islamabad to Larkana
Bahawalpur to Sahiwal
New Cities:
Faisal Movers also started its operation in many cities and towns in the country. Some of them are listed below.
Larkana
Mansehra
Swat
Sialkot
Rajana
Kamalia
Abdul Hakeem
Website: www.faisalmovers.com
Online Booking: www.bookkaru.com
FAQ: Number 1 Bus Company of 2020
Which was No. 1 bus company of Pakistan in 2020?
Faisal Movers was the Number 1 bus company in the 2020 year, they have started new routes and added more cities and buses to their fleet.
How many buses do Faisal Movers have in their fleet?
Faisal Movers have more than 600 buses in their fleet including Daewoo, Yutong, KingLong, and ZhongTong buses.