Shahid Coach Karachi to Swat Business Class Bus Service
Shahid Coach Service (SCS) a public transport provider, having its main terminal and headquarter at the beautiful valley of Swat. Shahid Coach is operating from Swat covering three major Cities i.e. Karachi, Lahore and Faisalabad thus, having its business in three different provinces (KPK, Punjab & Sindh).
The main terminal is located at the outskirts of Mingora city, lies at Fizagat Park which is situated on the river bank. The terminal and the above mentioned vicinity is representing a picturesque view and admirably pleasant atmosphere. Moreover, this particular venue is also attracting the tourist to travel through this service because at a near distance hotel facilities are also available. Furthermore, this road is leading towards Malam Jabba, a summer camping resort, as well towards Madyan, Bahrain and Kalam valleys. In this regard very particularly during the summer season the company is also providing facilities to the tourist to visit the above stated beautiful valleys.
ITC Cruzer is a newly launched inter city bus service with latest VOLVO buses and the latest entrant in the intercity travel landscape in Pakistan. (Closed now a days)
The company is set to revolutionize the way the travel industry works in Pakistan, built on international standards to make it convenient, luxurious, affordable and enjoyable – just the way you want it. ITC Cruzer started its operation towards Karachi from All major cities like Lahore, Islamabad, Faisalabad, Multan, Peshawar etc.
Shahid Coach Karachi to Swat Business Class Bus Service: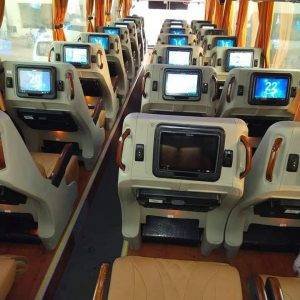 Shahid Coach is starting Business Class Bus Service in collaboration with ITC Cruzer from Swat to Karachi on March 18, 2021. Shahid Coach announed this news on their official facebook page citing the above statement. Both companies are providing luxurious services to their customers.
---
Related Topic
Faisal Movers Business Class Bus Service
List of other Luxury Bus Services in Pakistan
Travel from Karachi to Swat by Bus
---
Facilities on board:
2 Time Meal
Massager Seats
Refreshment
Bus Attendant
Bus Ticket Price from Karachi to Swat:
Karachi to Swat Promotional Fare is 4500.
Departure Timings:
Departure from Swat daily at 11:00 AM.
Departure from Karachi daily at 08:00 AM.
Contact Details:
Booking Number Swat Office: 0946 812355-03454445252
Booking Number Karachi Office: 02136690420-03002638952
Read More about Bus Services from Karachi to Swat